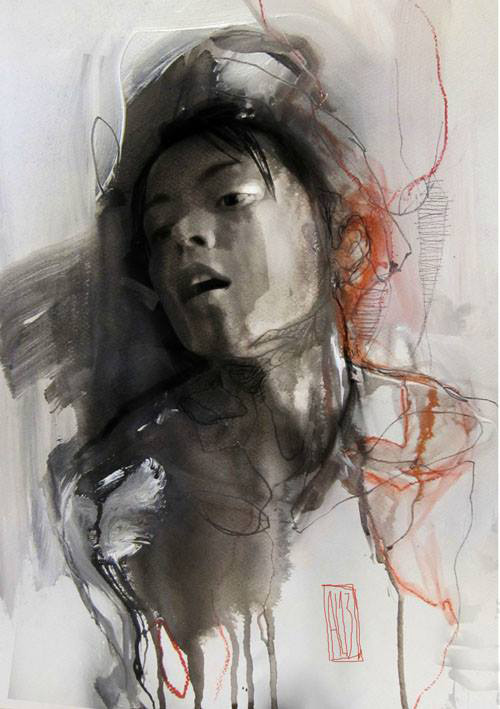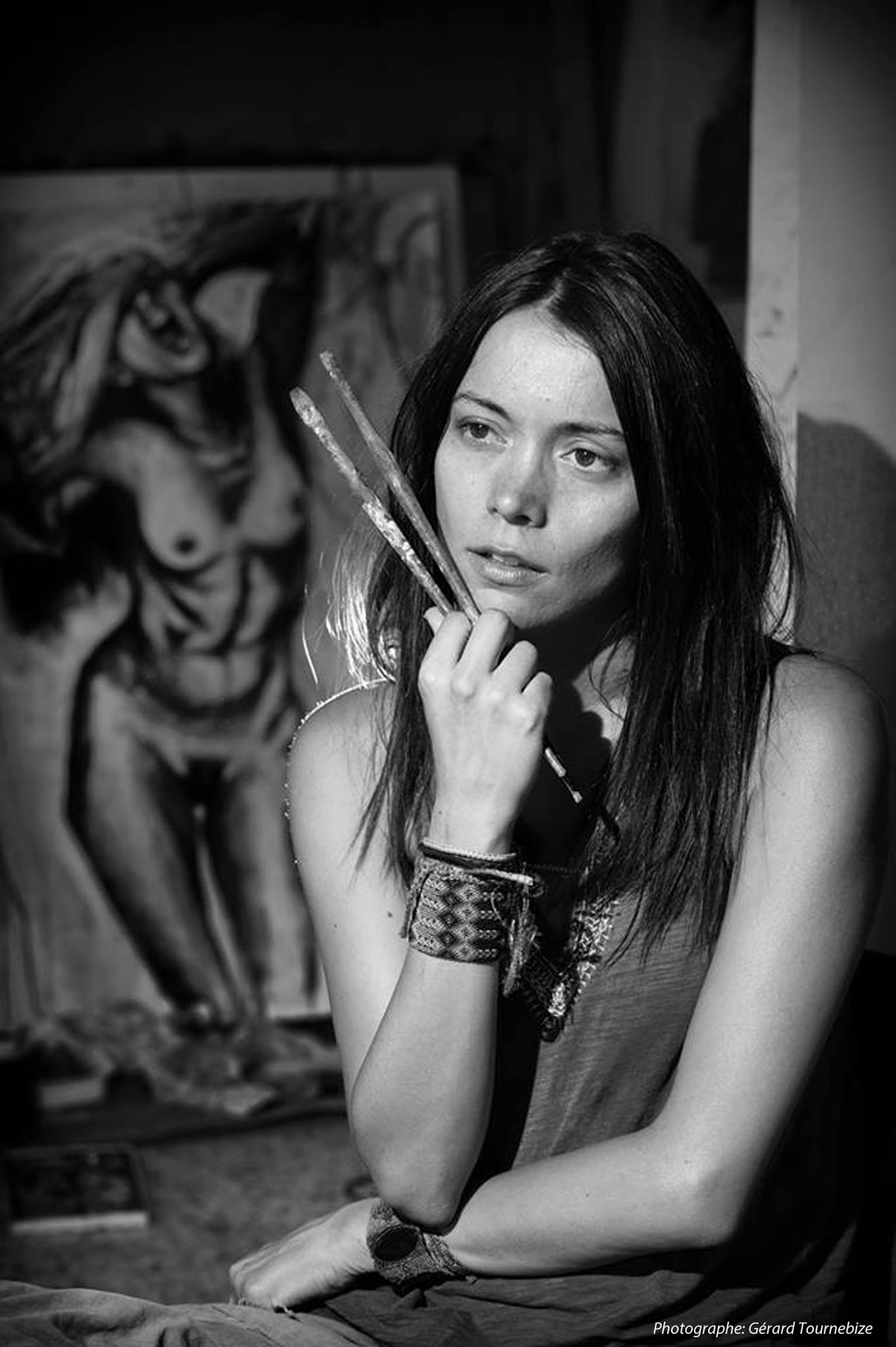 1.) Who are you and where do you live?
Im called Aurore Lephilipponnat and i am an artist painter living in south east of france, in trans en provence,
2.) What did you do before you decided to become an artist?
Just after my university, i deciced to work by myself and discover my own practice and artistic creation.
I was in search of my creation and I really watched for a long time, the world around me. I started making posters, working in web design, graphic designer, and moving in my area to go to the east, I took the opportunity to stop everything with computers and enjoy the real world. I met a performance artist association, and I discovered a fantastic world scene, painted in public. I have been a facilitator for children because children's minds fascinate me. Carer in an animal shelter, I also worked as an agricultural seasonal and I love being in nature all day. Today through hard work, I get to live my art.
3.) When and why did you decide you devote to the art?
This was not really a decision but rather obvious that the paint would accompany me all my life. Already very young. I always said that I will be a painter or anything else, it's like a fluid circulating inside me and do not paint would have denied a large part of my nature, I have the chance to exercise my passion for a living and I am grateful every day to providence and celestial energies for giving me the freedom to create my world with the paint. I hope to show my gratitude by helping people to enjoy in seeing my work,
4.) What is your favoriteSubject (s) and design media?
It took some time to use different medias, to know what kinds of tools I wanted to use, Indeed, i used to practice with a lot of different experiments, and with time, failures and attempts permit me to approach the good mediums. Today I feel free with charcoal and ink as they are fluid, unstable, I like to control them while letting them live a little random. I like the balance between control and the let-go. For subjects, the human interests me a lot thats why I'm not trying to create decorations around. I still minimalist in my creation and I center around the intensity of the emotions of the human being, wanting to express his inner Nature and what agitates and makes it vibrate,
5.) Where or how to find inspiration?
Inspiration to my work I find in nature and in the "new media" this time. But only those who look really find something.
6.) What do you like about your work?
My work is an extension of myself, it's my playground, and discoveries. Being an artist gives me the feeling to explore my own creative world. I'm happy to have a way to express myself and share because sharing is the main road. it is a bridge between creation and the observer.
What I love about my job is give emotions to the audience.
7.) Which artist or art movement that has influenced you and what way?
I've never stopped on art movements, for me, everything is influence. The world around me influences me daily, Firstly, my biggest influence is my inner state, my emotions. The rest are countless amounts of talented artists, painters, photographers, dancers etc,,, who always help me to progress when I feel a little out of breath.
8.) What are the best answers that you have received for your work?
I loved so much criticism as praise. Although critics are building, I am always happy to see that people like my work, and that work provides many emotions. This has already made people cry, give intense emotions and I am always very touched to see that art can offer that, I also experienced difficult times but critics have always found a way to progress,
9.) What are your favorite art and artists?
I never keep lists of people that I love, I love too much, I sometimes stop a very long time on the work of one artist and the next day another, and that all the year, So I have no ideas in mind. But the artists I like always allow me to progress and take roads when I had no thoughts.
10.) What advice would you give to other artists?
Each artist must be honest with yourself to be authentic to the people. We must draw itself with sincerity, and want to offer to the world his own vision. We are all artists from the moment you created. I know artists who never touch brushes but they are artists of humanity, because they know make people laugh and deeply love life. There are no specific codes attributable to art. An artist is a being who creates his world and knows how to share it with love,
11.) Is there a question which do you imagine itself again and again?
I would hope that all human beings find their own inspiration road. That everyone finds itself its light to illuminate the world. Me, I found painting to do, and I'm really happy to have this little mission on earth. And just hope the same for everybody,
Thank you for reading, I wish everyone a nice creative life.

CONTACT:
WEBSITE: www.aurore-lephilipponnat,com
SOCIAL-NETWORK: FACEBOOK
MAIL: a.lephilipponnat@gmail.com
Exclusive Interview by PAINTERSPOT ® – ART-LIGHTS – All work is copyright and protected by ©™ Aurore Lephilipponnat