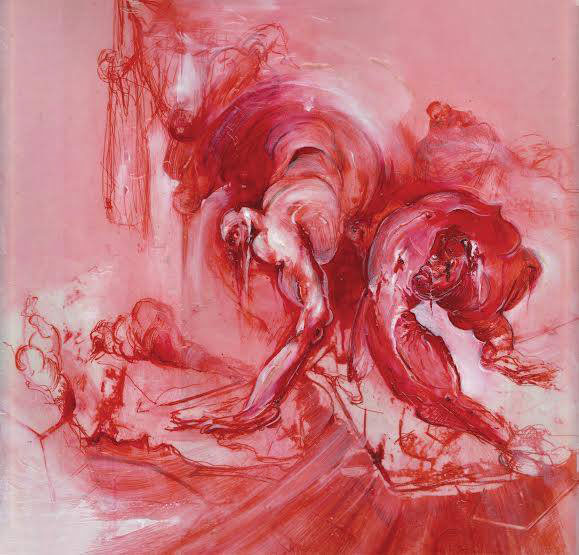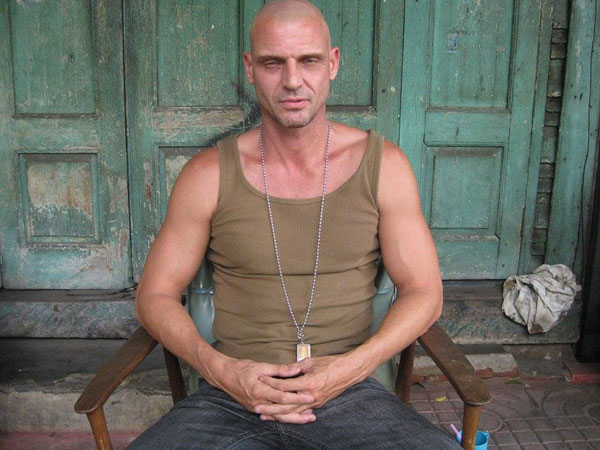 1.) Who are you and where do you live?
My name is Barro Donker. Born and raised in the City Centre of Amsterdam (The Netherlands). After 20 rather turbulent years, caused by my own choices, cause and effect, I needed and decided to say goodbye forever to my old life. For 8 years now I live in Thailand, mainly Bangkok. Due to this choice I am still alive, literally and figuratively and am capable to totally focus on my Art and Buddhism.
2.) What did you do before you decided to become an artist?
In my real early years, as a kid, my world was all about sports; soccer and tennis. And automatically I ended up owning and running a successful Tennis School and – Club. I was always busy there, 24/7. Eventually the work pressure,, combined with my obsessive behaviour and longing for adventure, drew me to the dark side of life; drugs and all that comes with it. So I have to say that before the moment I decided to become an artist
I was a professional addict and former detainee.
3.) When and why did you decide you devote to the art?
During all the various stages in my life, starting in my childhood, drawing was always my great passion and a huge magnet. I guess my dyslectie helped and pulled me a little in that direction. But at that time no "professional" option in the environment that I lived in. And later on my lives' choice gave me a lot of negative distraction to really pay attention to anything else at all. But still drawing was the only stable focus for me during all my steps.
In 1998, during one of my wanderings, this time through the streets of New York,I ended up in The Metropolitan Museum of Art. And the world opened up to me, the penny dropped, my world! Painting a la ……The paintings of Old and Modern Masters ….This is what I want. That's me!
From that moment on every opportunity I had ( I mean I still was a wandering junkie), I studied, read, observed,, practised etc. With trial and error, over and over again. I'm an autodidact.
4.) What is your favoriteSubject (s) and design media?
Human Behaviour.
I have always been interested in philosophy and psychology. Learning is about making mistakes and analyzing failures of thoughts and actions made by myself and others. One can only know themselves through others. By free will, forced by doing the wrong things and making bad decisions, I have been "privileged" to live in many different societies and been able to observe. At the end, for me, it's interesting to see through all the same patterns and phenomena of humanbehavior in all societies. I want to capture this in my work.
My current Project 'the Conflict of creating art lies in the Conflict of all human matters' is based on two fundamental subject; Truth & Conflict
Seeking to draw up a code of conduct which would define what it means to be a true follower of my thoughts. Always searching to find a way, or just no way, within multiple choices of rational- and emotional decisions, based on comparison and duality. Because everything is related to everything. Knowing that every action has it's reaction, founded on knowledge, experience and perception. This creates a personal truth and someone's own reality.
Therefore I interpret truth as fake.The absolute- or real truth is something else. It's a pathless land, and cannot be approached by any way whatsoever. Not by any religion, any philosophy, any political system, any culture, any emotion, nor by any law of aesthetics etc.
Drawing is my natural habitat; pencil on paper. Overtime I worked my way towards Oil Painting. For this Project I combine various media (mixed media); printing, drawing, Chinese Ink and Oil.
5.) Where or how to find inspiration?
Referring to the subjects of my current Project, art as well has nothing to do with absolute truth or reality, it's about creating an illusion. Accompanied by an inner conflict about which side of the coin to choose. What is the fashion of the day or going the opposite of that fashion? Influenced by our inner aesthetics and the judgment of the external world. And this is where all the conflict starts. This is what I try to express, not only in a symbolic way, but also in a technical- and expressive way.
It's me working on my art, reflecting the world as I see it, trying to make a bridge through my mind on to the canvas. Not in Abstract Expressionism, as one should expect, where practically (if I may be so bold) no rules exist, but in a Figurative Expression, tied to certain boundaries. But this is who I am.
It's a total and never ending conflict in all matters. 'The conflict of creating art lies in the conflict of all human matters'.
My intentions and ultimate goal are to paint with intuition, care and carelessness! Finally searching for an expression, which leaves the viewers wondering what it means.
6.) What do you like about your work?
My work creates friction and intellectual stimulation. Not only for me but also for the viewer.
I strive to achieve, through my work, that people step above their own brain computer (rusted solid perceptions) and go into a deeper level of observation and awareness. That there is no past, no future. And being more in the moment to be without any perception and judgment. Freedom.
7.) Which artist or art movement that has influenced you and what way?
After a study period of over two decades I can say that I have 6 absolute favorite painters; Francis Bacon, Lucian Freud, Pablo Picasso, Diego Velázquez, Francisco Goya and Rembrandt van Rijn.
Because of the free rapid brushstrokes and elements of expressionism..
8.) What are the best answers that you have received for your work?
I'm mainly involved in making Art for myself. It's my way of living and dealing with the world. But of course, if one wants or not, any response (negative or positive) makes one feel, think, react and act.
And naturally the sell of a painting is a very rewarding feeling.
9.) What are your favorite art and artists?
At this moment I have great interest in Julien Spanti, Adrian Ghenie and Lita Caballut. I admire their work and way of presenting themselves in this large and wide labyrinth of the art world and broad compitition.
10.) What advice would you give to other artists?
Here I would like to state two quotes.
"One must still have chaos in oneself to be able to give birth to a dancing star"
― Friedrich Nietzsche
"Imperfection is beauty, madness is genius and it's better to be absolutely ridiculous than absolutely boring"
― Marilyn Monroe
11.) Is there a question which do you imagine itself again and again?
My personality and therefore my life and lives questions are all based on duality, Buddhism and what is art. So there is not one question in particular.

CONTACT:
SOCIAL-NETWORK: FACEBOOK
MAIL: Barro.Donker.Artist@gmail.com
Exclusive Interview by PAINTERSPOT ® – ART-LIGHTS – All work is copyright and protected by ©™ Barro Donker