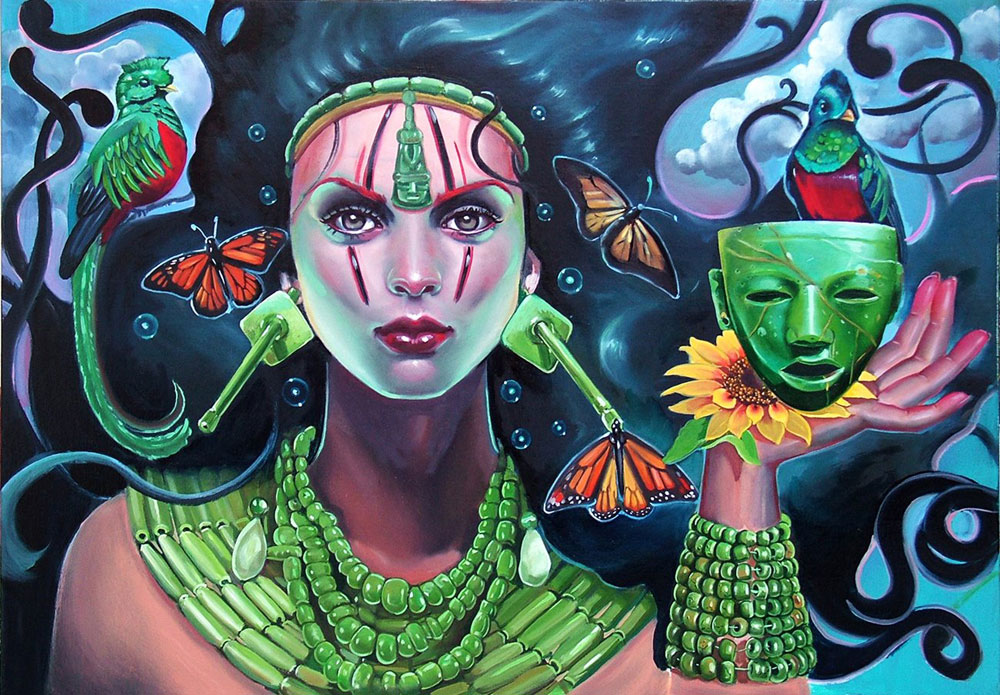 1.) Who are you and where do you live?
Hello, my name is Italia Ruotolo, artist painter from Naples, Italy.
2.) What did you do before you decided to become an artist?
I was a pure spirit still not incarnated come to heart for making and loving art.
3.) When and why did you decide you devote to the art?
As soon as I started  thinking  I understood that all that I cared about was art.
4.) What is your favoriteSubject (s) and design media?
My favourite subjects are human figures. I'm focused mostly on women faces that I use as symbols to veiculate messages.
My favourite media are oils. My technique is very traditional, after a gesso imprimitura on wood or canavas, I draw and then paint lot of overlapped oil colours layers to lead the work to the maximum level I can .
5.) Where or how to find inspiration?
I make wide circles on the sketch pad to identify the shapes, then I look for physical or photographic references to set up the scene. So I go to the executive part of the actual painting.
6.) What do you like about your work?
The state of euphoria generated by the beginning of a new work, the sense of pleasant fatigue given by the job done,and in the middle of this 2 phases ….there is the jurney into the magic!
7.) Which artist or art movement that has influenced you and what way?
When I studied Art History I loved everything, from Rupestrian Art  to Andy Warhol ,however, I recognize three fundamental cornerstones in my art :  Italian Renaissance, Art Nouveau and Surrealism. My painting are a synthesis of these three elements . I took the volumetric sense from the first, the sophisticatied composition from the second and the message that comes from deep from the third.
8.) What are the best answers that you have received for your work?
One of the things that make me really  proud is the  design of a t-shirt done for one of the most famous members of the Wahrol's Factory, a true icon of contemporary culture, an actor I really love Joe Dallesandro.
9.) What are your favorite art and artists?
My favorite authors and works are many and change continuously, lately I'm in love with the painting
"The Roses of Heliogabalus" by Lawrence Alma Tadema.
10.) What advice would you give to other artists?
You know, typically artists do not accept any advice, if they did they would not be artists as the real artist traces their own way, so I can tell you what is the advice I give to myself :
Just to do what I like to because in art wins only what you do loving it.
11.) Is there a question which do you imagine itself again and again?
I have the feeling that everything hides a secret, I want to find out what that secret is! For me painting is necessary to know it!

CONTACT:
WEBSITE: www.italiaruotolo.wix.com/italia-ruotolo-art
SOCIAL-NETWORK: FACEBOOK
MAIL: italiaruotolo@libero.it
 Exclusive Interview by PAINTERSPOT ® – ART-LIGHTS – All work is copyright and protected by ©™ Italia Ruotolo