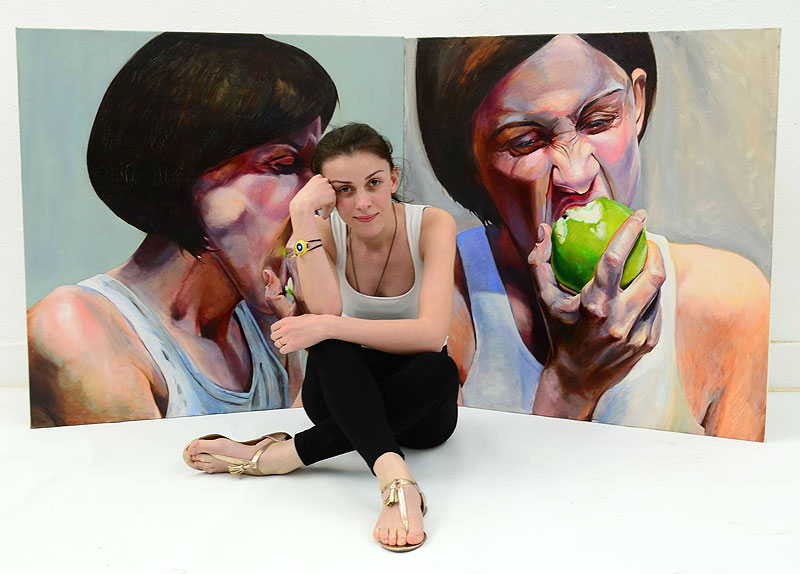 1.) Who are you and where at do you live?
My name is Salome Rigvava, Painter. I was born in Gagra, Georgia. After civil war in Abkhazia region I was forced to move together with my family to Tbilisi. Here in 2006 I went to State Academy of Arts, graduated first Bachelor and then Masters Degrees. After that in 2012 I got DAAD's scholarship and went to Academy of Arts in Stuttgart, Germany for further education. After graduation I have stayed in city and today I work here as a freelance artist.
2.) What did you do before you decided to become an artist?
I started drawing when I was very small and I knew from very beginnings that only to painting I will give most of my time.
3.) When and why did you decide you devote to the art?
I was only 4 years old, when my parents took me to the first drawing teacher and there I saw the amazing environment which had a great impact on me so far.
4.) What are your favorite subject(s) and media(s)?
Galleries, museums, art magazines and what is most important – my colleague artists, the environment in which I am.
5.) How do you work and approach your subject?
I always try to express what is inside of me – emotions which fill me and leave their imprint.

6.) What do you like about your work?
It is quite hard to talk about that. I think others might express their opinion about my works, who know me as a painter and artist.
7.) Which artist or art movement that has influenced you and what way? 
Modern and ancient art had certain influence on my development as an artist. And will still have an impact in future.
8.) What are the best responses you have had to your work?
Sincerely convey feelings and emotions – this is my message which I try to deliver trough my paintings.
9.) What are your favorite art work(s) and artist(s)?
It is very difficult to distinguish one artist or work. Some artists, directions and works influenced me and were interesting for me.
10.) What advice would you give to other artists?
The way we choose is quite difficult. Always be loyal, faithful and love your profession.
11.) Is there a question you ask you keep telling yourself?
I often ask myself – is the work that I do, comes out of me? Am I free or under the influence of the environment? Art is freedom, which does not limit, does not bind the hands. Time will determine everything.

CONTACT:
WEBSITE:
SOCIAL-NETWORK: FACEBOOK
MAIL: salome.rigvava@yahoo.com
Exclusive Interview by PAINTERSPOT ® – ART-LIGHTS – All work is copyright and protected by ©™ Salome Rigvana