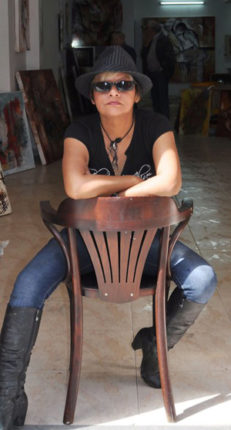 1.) Who are you and where do you live?
I'm Magda Rivera live and develop my art in Barcelona.
2.) What did you do before you decided to become an artist?
Always been involved in the art world.
3.) When and why did you decide you devote to the art?
What better way to live than to do what one likes …! It's always great to know what you want to spend life.
4.) What is your favoriteSubject (s) and design media?
Current, network, internet … all communication technology …!
5.) Where or how to find inspiration?
Is the ideal place to finish projects on high quality snap … now myself am about to launch one … A book. They can also enjoy applications.
6.) What do you like about your work?
All are different fields to handle, study and materials … direct contact with the elements, then the drawing,photography editing programs is many fields into one …
7.) Which artist or art movement that has influenced you and what way?
All influences, film music, literature, visual artists, have too many favorites in all fields and at all times …!
8.) What are the best answers that you have received for your work?
Many, and sundry, but all positive … and enriching.
9.) What are your favorite art and artists?
Miquel Angel.
10.) What advice would you give to other artists?
Find identity ….!
11.) Is there a question which do you imagine itself again and again?
And why not …?

CONTACT:
WEBSITE: www.magdarivera.com
SOCIAL-NETWORK: FACEBOOK
MAIL: artstudiomagdarivera@gmail.com
Exclusive Interview by PAINTERSPOT ® – ART-LIGHTS – All work is copyright and protected by ©™ Magda Rivera